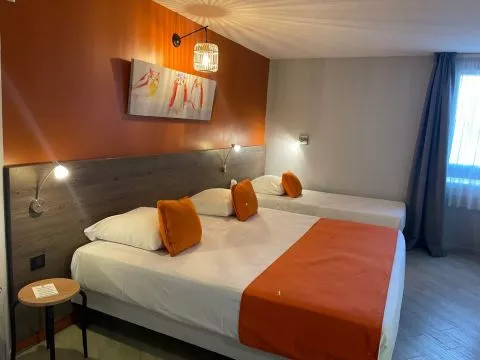 Hotel Lyon Nord
Hotel Restaurant in the north of Lyon
The hotel Lyon Nord located halfway between Villefranche sur Saône and Lyon, welcomes you in a friendly atmosphere 7 days a week.
An appointment, a meeting, a family celebration in Trévoux, Neuville Sur Saône, Ars sur Formans, Fontaîne sur Saône, Rillieux la Pape, Caluire or Miribel .....
A trade show in Lyon, you are an exhibitor or a visitor: on the edge of the A46 motorway, only 20 minutes from the center of Lyon, the Saint-Exupéry airport and the Eurexpo convention and exhibition center.
A sports event at the Stadium of Lights (GROUPAMA STADIUM), the Lyon Nord hotel offers you direct access by expressway at only 25 minutes from the great Lyon Olympic Stadium!
You are going on vacation to the South ... Marseille, Nice, Spain, or towards the Alps ... Grenoble, Chambéry, Italy, Switzerland ...
News
by booking directly by phone or on our website
Reception hours
The reception of the hotel welcomes you from Monday to Friday from 7:00 am to 10:00 pm, Saturdays, Sundays and holidays from 8:00 am to 12:00 am and from 5:00 pm to 8:00 pm.
Outside of these hours, rooms are available for sale in our automatic terminal located at the entrance of the parking lot. You can also book your room online.
Restaurant hours
The restaurant is open to all from Monday noon to Friday evening